Spain knocked off Brazil 96-78 today, giving España a 2-0 record in Group G (Brazil is 1-1). The game was close through the first three quarters, then Spain pulled away in the fourth. Juan Nunez played a great game for Spain. The 19 year old had 13 points, seven rebounds, and five assists, showed confidence, and lots of promise. Usman Garuba played well off the bench, his grit helped shift the momentum for Spain.
Former NBA player Bruno Caboclo played a solid game for Brazil, tallying 15 points and 11 rebounds, but the defensive intensity wasn't consistent for Brazil. They shot lots of threes (34 to be exact) instead of feeding the post, where they had an advantage. Yago Santos, a 5'10" speedy guard (get an idea of his game), put up 14 points of his own, but it took him 14 shots to get there.
Spain Played Their Way
The Spanish defense was on a string, the ball and players were moving, and the cohesion was palpable. Spain has a younger team now, the Gasol brothers are gone. Rudy Fernandez and Sergio Llull are still competing, but Coach Scariolo had this club playing the right way. The ball moved, there was lots of talking on both ends, and the attention to detail was extraordinary. That allowed Spain to shoot almost 52% from the field while only committing eight turnovers.
When Brazil got out in transition, or made a few buckets in a row, the Spanish defense would buckle down. One possession illustrated this perfectly.
Spanish Defense was Incredible
It happened with 5:54 left to go in the fourth quarter. Juan Nunez missed a free throw that was rebounded by Brazil. Brazil brought the ball down towards their basket, ran a dribble hand off along with screens on and off the ball. The ball swung from the strong side, to the weak side, and back, the Spanish defense continued to rotate and not give Brazil enough daylight to get a good shoot off.
The possession ended with Santos chucking the ball towards the rim as the shot clock expired. He didn't even hit the rim and Spain got the ball.
Efficiency on Display
Spain isn't a much more talented team than Brazil. They played with a much higher basketball IQ. Knowing your personnel, putting them in places to thrive, and not going out of character is Spain's calling card. Veterans like Fernandez and Llull helped with that, but even young Juan Nunez plays more like a vet.
Remember this stat: Santos took 14 shots to score 14 points! Nunez scored 13 points on six shots. Every possession matters in this tournament, not just for winning the games, but with the point system, keeping the game closer matters in the World Cup.
Spain doesn't take rushed shots. They read the defense, see who's open, and tactfully look to score. Brazil needs to watch the tape and take notes.
Brazil is Building
Bruno Caboclo looked unlocked playing for Brazil. He never made a huge impact in the NBA, but the intangibles and value he brings shined today. Why didn't Brazil feed the ball inside where they had success?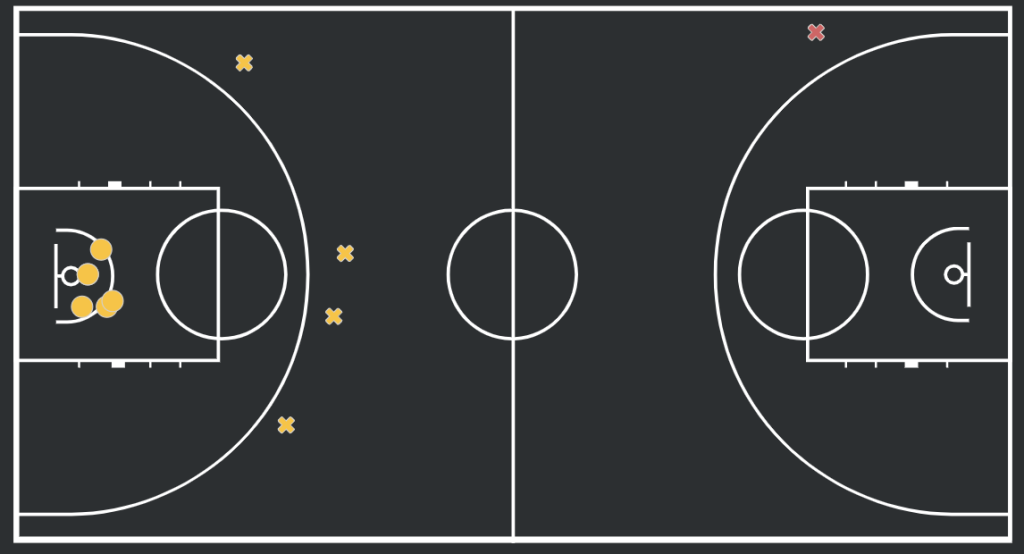 They didn't understand the idea of stick with what works. Santos showed flashes of brilliance, but pulled up for lots of rushed threes. Some of them fell, but Brazil shot a below average 26.5% from three. If Brazil took less threes and took more shots near the basket we're probably talking about a different result, at the very least a closer final score.
Take smart threes when the ball has been swung inside out, but less over ambitious heaves, and drive more. Make the Spanish rotate, eventually they'll wear down and more open shots will come.
What's next for These Two Clubs
Spain has likely clinched a chance to advance in Group G. Brazil is currently second, and their game Wednesday against the Ivory Coast will determine if they advance. Spain plays Iran Wednesday, but will likely advance either way. Checkout other World Cup coverage. It'll be exciting to watch Juan Nunez grow, he is reminiscent of Ricky Rubio. Both of these teams are probably going to compete more in the future, and they match up well, so here's to more battles between Brazil and Spain.