Josh Dhani is a weekly writer for NBATipoff.com.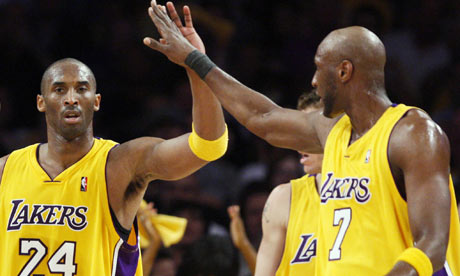 ESPN reports that Los Angels Lakers superstar Kobe Bryant is very optimistic of his teammate Lamar Odom returning to the Purple and Yellow.
"I'm optimistic that he'll be back," Bryant told ESPN. "He makes us a much, much stronger team."
It may tough for Odom to come back but, hey, who knows. He is receiving interest from the Miami Heat, and he may be moving to the Dallas Mavericks as well. Odom was a key role-player off the bench as he averaged an interesting twelve points and nine rebounds.
With the recent loss of Trevor Ariza, the Lakers brought on Ron Artest, who also may be playing a role if there really is a departure of Lamar Odom. But according to Anthony Garciano of FootBasket, Odom is expected to come back to LA.
But yet, if Odom doesn't stay, however, Josh Powell may be the man who has to step it up due to the fact that Artest will be playing at small forward. Or, the Lakers could put Andrew Bynum at center and Pau Gasol at power forward, or you can do it the other way around.
But many reports are believed to say that Odom is coming back to the Lakers.
We'll see how things turn out. As for right now, this is what NBATipoff.com has for right now for the coverage of the Lamar Odom sweepstakes.