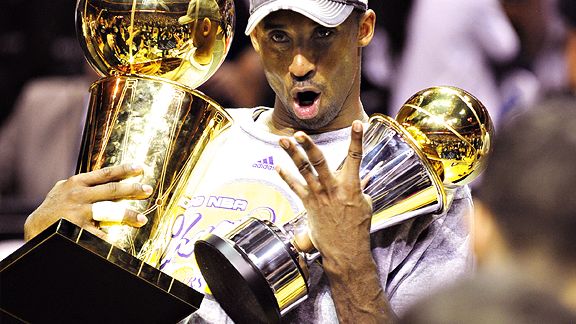 The Lakers won their 15th NBA Title in franchise history, and it's number four for Kobe Bryant and his first without the Diesel.
But you see that picture up there? He is holding four fingers up, isn't he?
Well, now he is going to have to hold is thumb up next year, I bet, because the Lakers are going to be the team to beat and may go to the Finals again next year.
With a little help from John Hollinger of ESPN on his research with all the big stats, I have all the details to give with statistics backing it up:
The Lakers won an NBA Championship without doing anything right. Pau Gasol was being soft all year but only brought it up a little notch. As I have said in one of my article about Gasol not being soft anymore, he was still a little soft.
And then there was Andrew Bynum, who was horrible throughout the whole span of the NBA Playoffs. Hollinger found out that he only scored 30 points and had 21 fouls in just the NBA Finals. That is four fouls per game!
Jeez.
And remember Jordan Farmar and Shannon Brown. They were supposed to help the aging 34-year-old veteran of Derek Fisher, but it turned out that Fisher was the one who was helping out Farmar and Brown.
And Farmar and Brown looked the guys who were aging as well.
Fisher didn't play very well, shooting 39.3 percent of his shots and being 28.4 percent from the three-point line. Even though those aren't very good stats, Fisher did average eight points per game and made some huge shots in Game Four of the NBA Finals.
But really, it didn't matter about stats for Fisher, as he won his fourth NBA Title.
Then you got Sasha Vujacic, who was the man who made all the shots, especially the ones from downtown as he shot 43.7 percent from behind-the-arc in 2007, which got him an extension (and don't forget the $15M!).
But in the NBA Finals, Vujacic didn't even exist and was supposed to remove the hard-fought double-teams from number 24 and Mr. Softie (Pau Gasol). Vujacic failed. And remember when I just said he didn't even exist in the NBA Finals, well…he didn't. In the last seven games, he played a total of only 33 minutes!
That is about playing five minutes per game!
And guess what made it worse? He never made one single shot in the NBA Finals, as John Hollinger has reported.
But who gives? They won the NBA Finals but here is the biggest question for next year: can they repeat, and also, are they the team to beat next year? Last year, when Boston won, they were the team to beat, but unfortunately, they lost James Posey and some other guys and lost KG for a little while during the year. They were NOT the team to beat. That year, it was Cleveland, and they failed to reach their mark.
The Lakers are now the team to beat at the starting of the year, or so I have been told. But how can they? They have to key players, Lamar Odom and Trevor Ariza, who are going into free agency and it doesn't look like they can sign both (Shannon Brown, too, but I don't think they'll need him).
Even if they can't sign on of them, or both, Adam Morrison and Luke Walton will have to step up their game as they both have one year left of their contracts, as Hollinger reported.
Kobe Bryant and Derek Fisher will be the only starters next year who will be older than 30 in the lineup. Kobe, who will be turning 31, is in outstanding shape while Fisher still has it after he will be turning 35. We don't if Fisher might retire though.
But hey, if you got a guy who can do this at a pretty old age, I think LA can keep him for about another two years or so.
For all we know, the Lakers can repeat but it will be tough. They might be losing three important guys: Trevor Ariza, Lamar Odom, and Shannon Brown. The Lakers have to somehow bring Ariza back for the sake of the 2009-2010 season next year.
If they keep Ariza, they could be the team to beat. Ariza was known for his top-notch steals in the Western Conference Finals, and his big three-pointers in the NBA Finals. If Ariza stays, Phil Jackson could win eleven titles.
And if the Lakers keep playing like they do, after finally winning a championship with the Diesel, big ol' Phil can win about three more titles for his Los Angeles Lakers.
And back to the picture up there. Kobe, it's time to put your thumb up soon.